> INTER/her past exhibitions
INTER/her with the RCA School of Communication Showcase with students and staff called Digital UnderCommons in the Campus Exhibition at Ars Electronica as part of the festival theme "Who Owns the Truth?" September 6th-10th, 2023, in Linz, Austria
Info online at
https://ars.electronica.art/who-owns-the-truth/en/digital-undercommons/
https://ars.electronica.art/who-owns-the-truth/en/inter-her/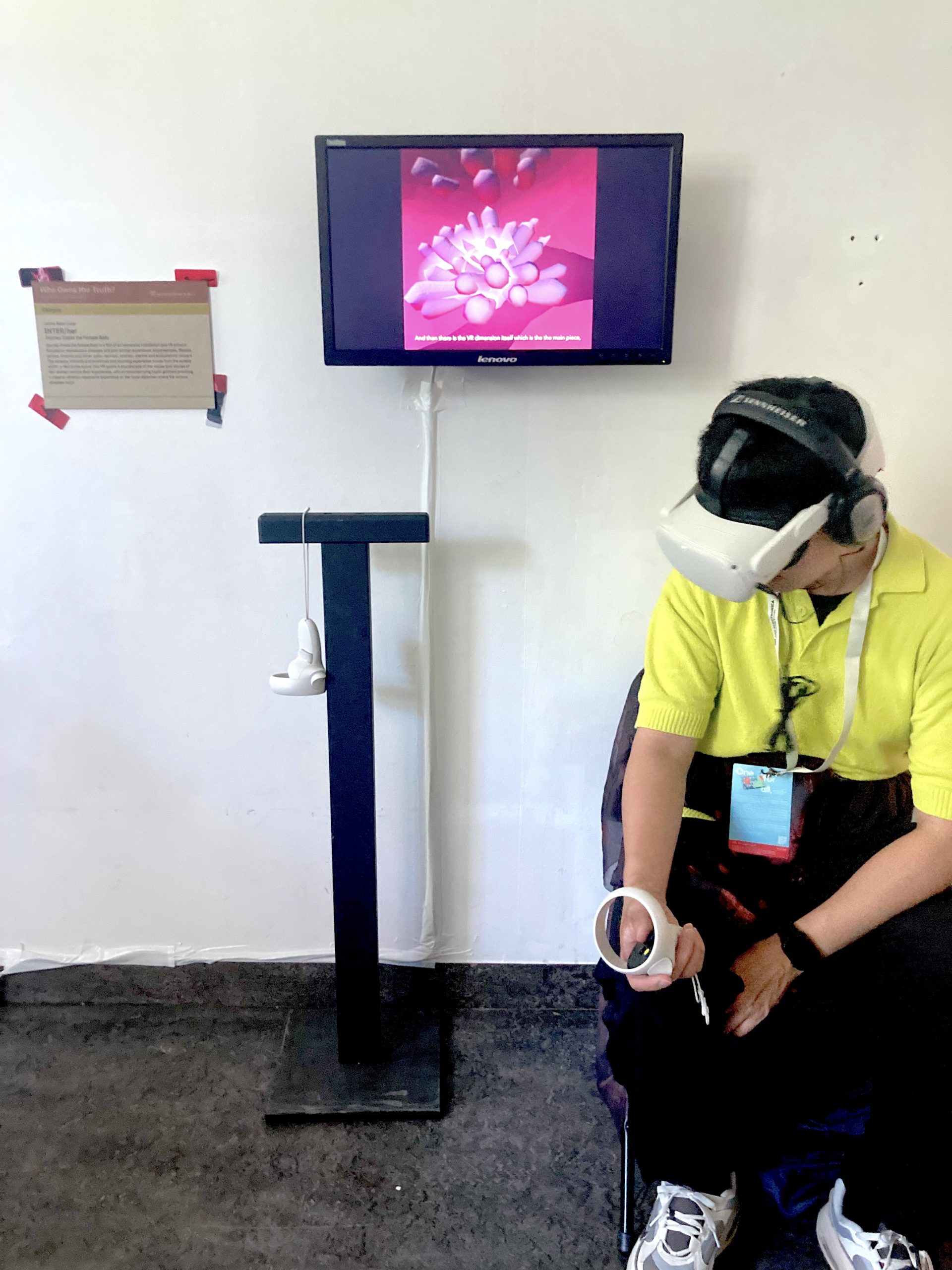 > INTER/her at South by South West 2023 Austin, Texas
UK House, March 8-13th
I went to the big music, film and interactive festival in Austin with the School of Communication of the Royal College of Art (where I now work since October 2022), and we brought a selection of work of staff and students. I had a short film of INTER/her on display with a headset and the garment for people to try in our area at UK House a partner venue of the SXSW Festival.
Link here https://www.rca.ac.uk/news-and-events/events/meet-the-rca-in-uk-house-sxsw23/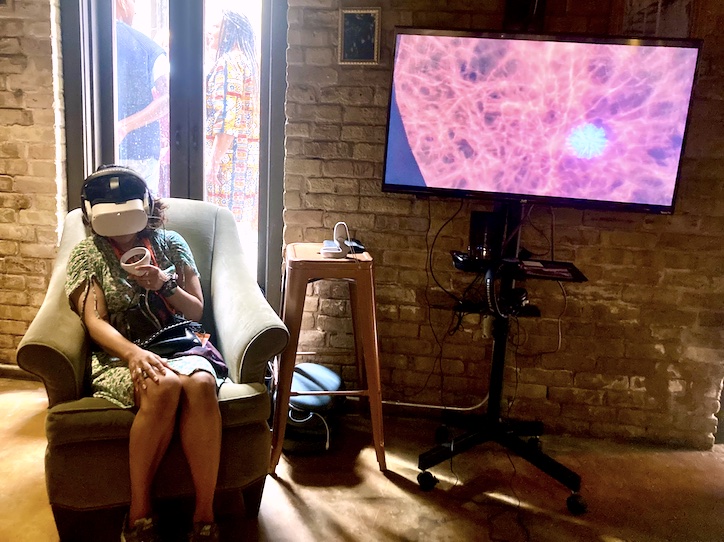 Details online https://www.peckhamdigital.org/artists/2023/camille_baker/
> INTER/her at Peckham Digital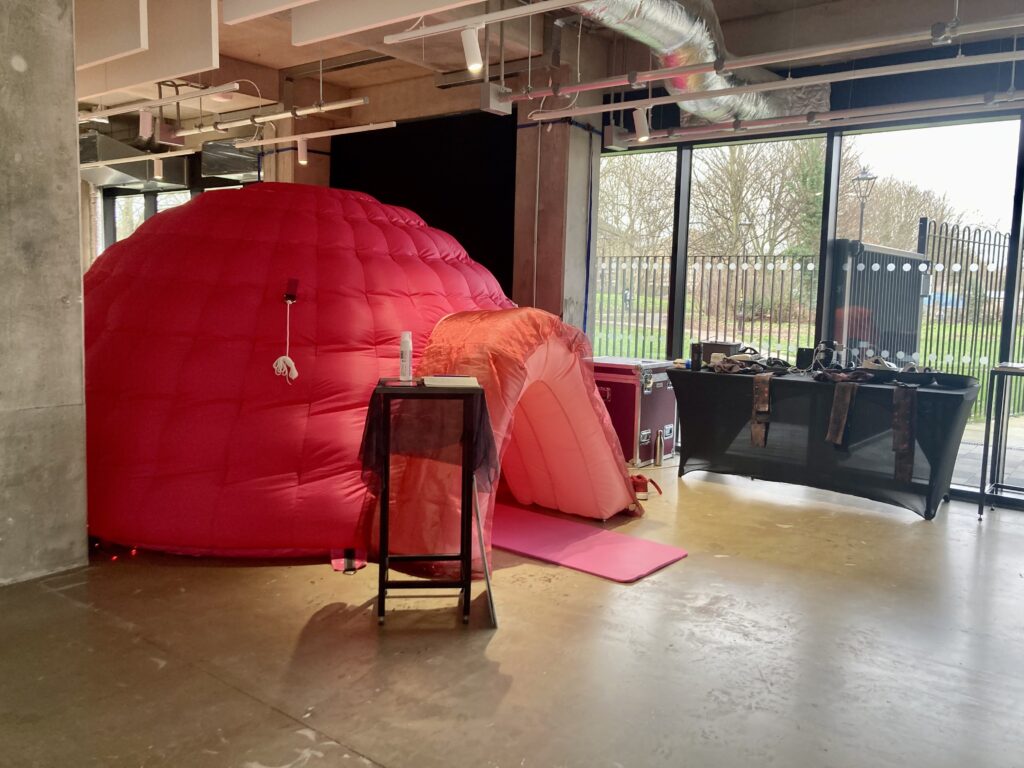 Video introduction on instragram can be found here https://www.instagram.com/peckham_digital/reel/
Art in Flux – Radical Embodiment (15): Carolee Schneemann Film Series Thu 10 Nov 2022, 18:45, Barbican Cinema 3
Details online https://www.barbican.org.uk/whats-on/2022/event/carolee-schneemann-art-in-flux-radical-embodiment
> INTER/her Barbican Film
This is mini-doc about INTER/her created for a showing at the Barbican Arts Centre Cinema on November 11, 2022 as part of the Art in Flux – Radical Embodiment: Carolee Schneemann Film Series
> INTER/her was showcased as part fo the Extended Senses Symposium, in a collaboration between the University for the Creative Arts and the University of Greenwich September 8th, 9th and 10th at University of Greenwich's Stephen Lawrence Gallery
See info here https://www.extendedsenses22.co.uk/team-4-2
> INTER/her past exhibitions
Who Cares? Technologies and /of /with Care – speakers series and exhibitions, Exhibition Opening Thursday, April 7th until April 28th, 2022, Ivey Library, New College, 20 Willcox Street, Toronto, Canada
Details https://artscisalon.com/who-cares/camille-baker/
See also the speaker series recorded talk from 25 Mar 2022 on Youtube below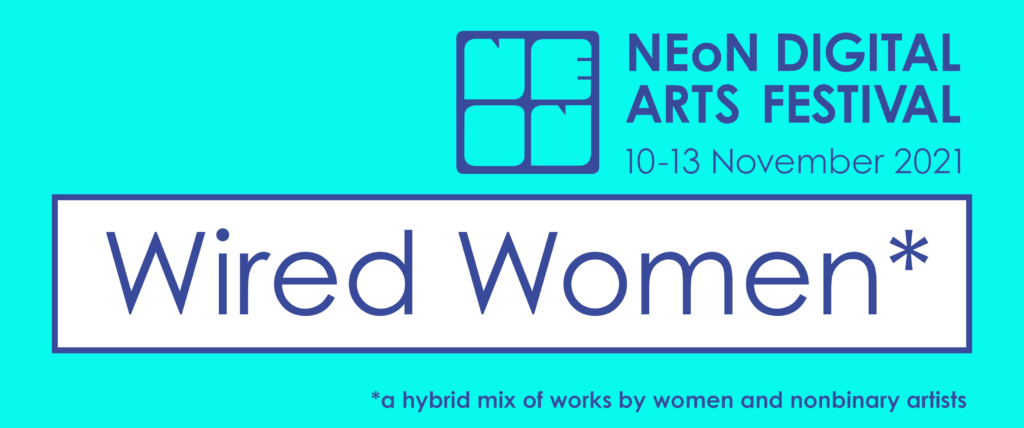 NeOn Festival, November 10th-14th, 2021, Overgate Mall, Dundee, online https://neondigitalarts.com/event/inter-her/
> INTER/her NEon /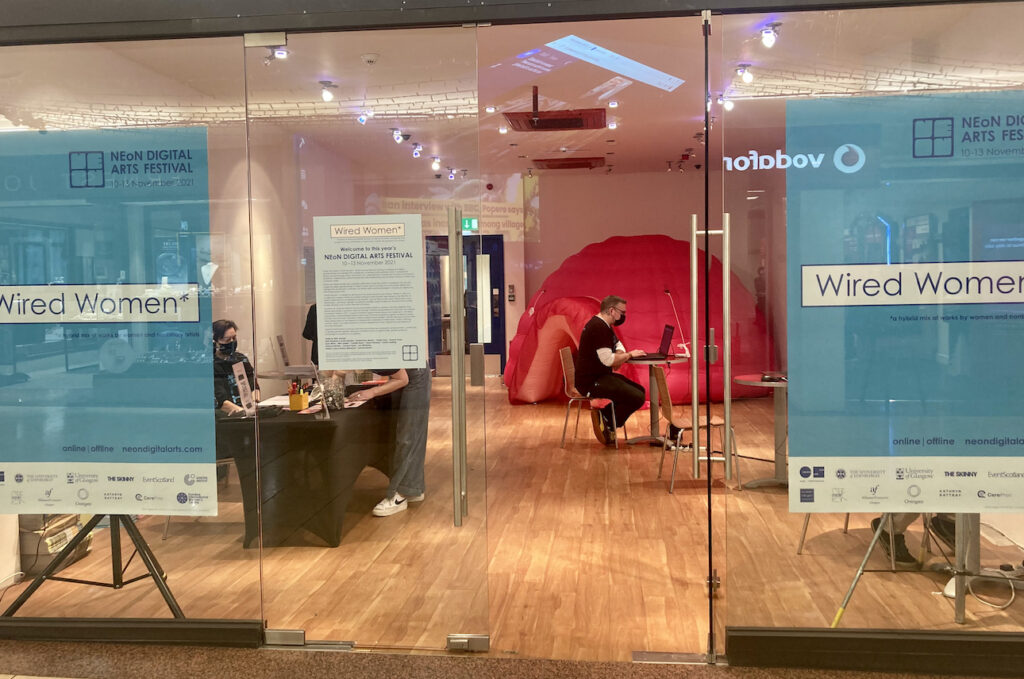 Video Interviews with the Dundee Courier can be found online at https://jwp.io/s/8TUzZ913 and https://jwp.io/s/pERhVeOw
See also Scottish TV clip here https://www.facebook.com/799233017/videos/886188128736399/

Brighton Digital Festival, November 3rd-7th, 2021, Locked In Gallery, Hove
Details online https://brightondigitalfestival.org.uk/events/inter-her
> INTER/her Brighton Gallery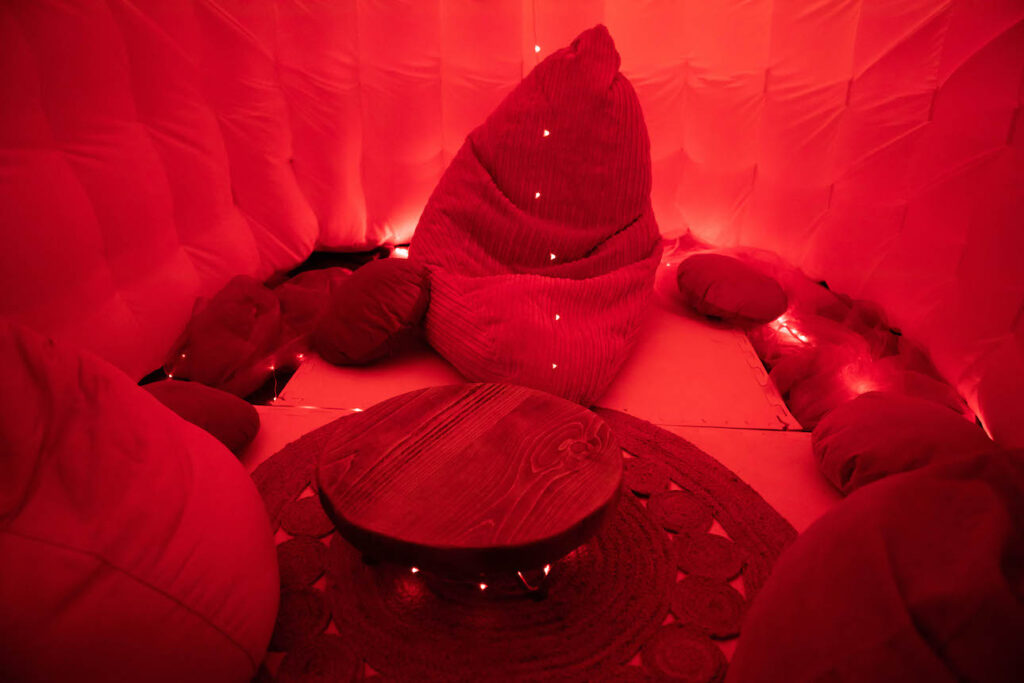 > INTER/her longlisted in August and then shortlisted in September 2021 for the Lumen Prize 2021 – 3D/Interactive category
https://www.lumenprize.com/2021-3d/interactive-shortlist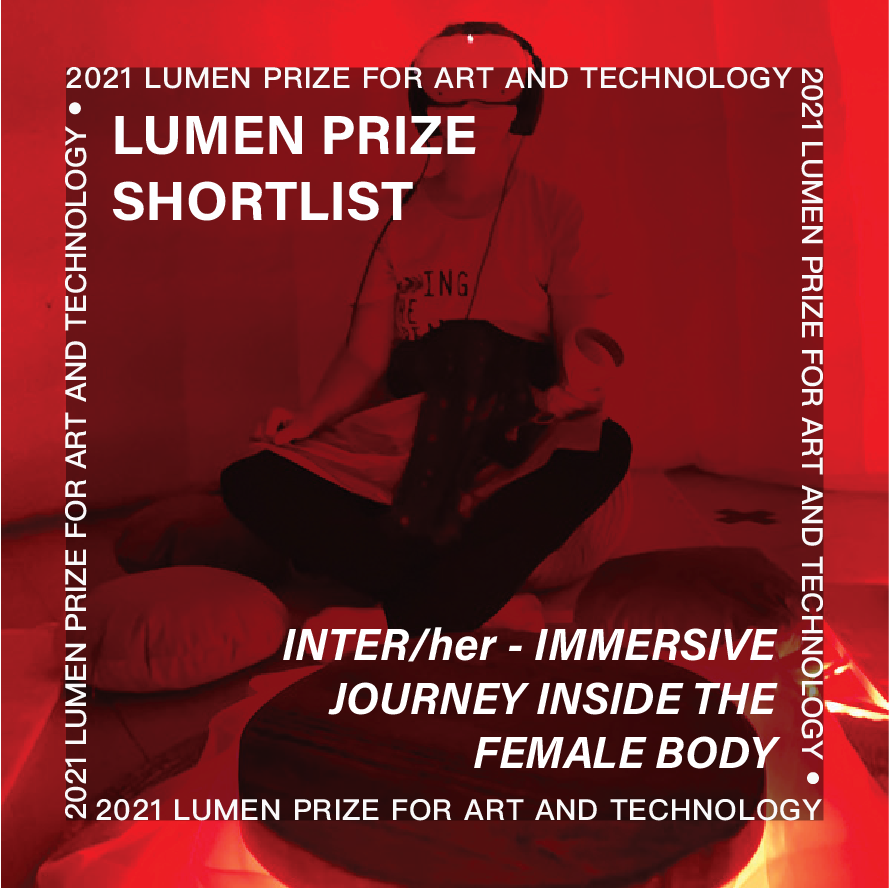 > INTER/her website
The new website for the INTER/her project was launched on 3rd April 2021. Big thanks to Centre Neptune for the design & build. All future information regarding the project can be found there, including installation locations, dates and visiting times. Hope to see you there.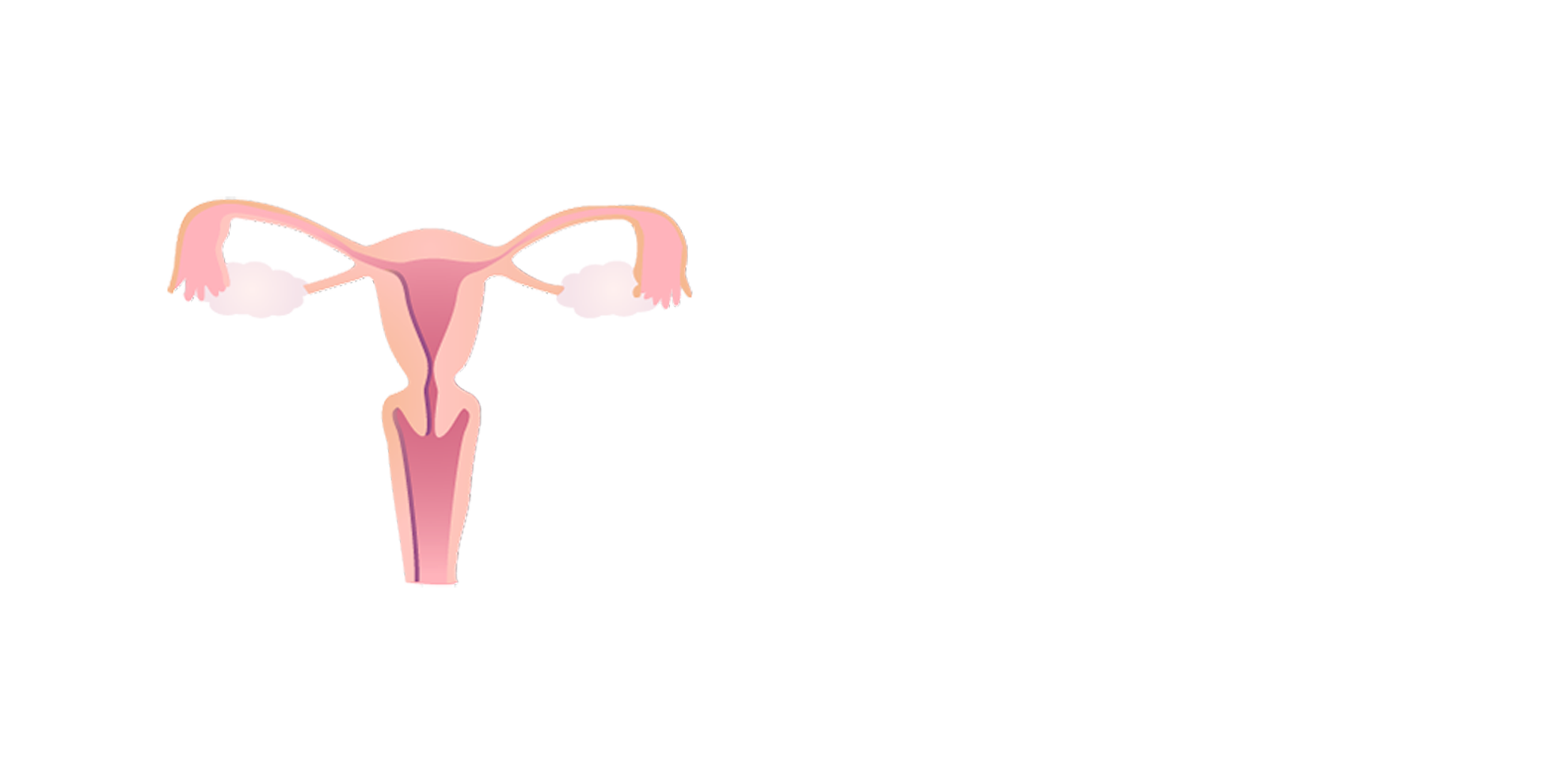 > Online Exhibition / Promotion
INTER/her is participating in a group virtual exhibition called Art in Flux: Reclaimed, celebrating some of the most radical and innovative media artists of our times. Online from March 30th to April 30th, 2021
Also see the project profile on the crowd funding site Artizen here

> Videos
Draft version of the vaginal canal with Endometriosis by collaborator Sarah Büttner (October 2020)
> Timeline
2019 – 2021
> Collaborators
Camille Baker – Artist/Artistic Director
Maf'j Alverez – Unity Interaction Designer & 3D Artist
Kat Austen – Sound Designer
Sarah Büttner – Tiltbrush / 3D Object Artist
Andy Baker – extra Unity programming advice
Paul Hayes – additional electronics construction & finishing for haptic corset
> Abstract
INTER/her is an intimate, immersive and VR installation that explores of the inner world of over 40's women's bodies and the reproductive diseases they suffer: endometriosis, fibroids, polyps, Ovarian and other cysts, cervical, ovarian, uterine and endometrial cancers and the lack of clear medical information/ support they face.
INTER/her is explored through a feminist lens, as personal exploration, public education, and community building, positioning the physical body as a site to explore psychological issues of womanhood, identity and the sense of self, exploring the body.
> Partners
Arts Council England
UCA / University for the Creative Arts
Access Space Sheffield
> Budget / Funding
£15,000 ACE Aug 2020-May 2021
£2,485 / UCA, 2019/20 (Round 1) UCA
£2,000 / UCA, 2020/21 (Round 2) UCA
> Outcomes / Impact
Prototype phase completed December 2019-Auust 2020
Phase two – production and exhibition September 2020 – May 2021